We would like to thank our sponsors, donors and guests for their support of the 2019 Agape Strong Giving Hope for Tomorrow Fundraising Gala.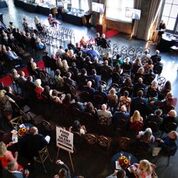 The evening was a tremendous success, bringing together old friend and new, celebrating the agencies 30th year of serving southwest Ohio. We also celebrated the first family licensed with Agape for Youth, Inc., Clifford and Lauretta Phillips.
We are extremely grateful to our sponsors and encourage you to visit their businesses and support our local community.
The Hatton Foundation, Cox Media Group Ohio, PNC, The Ohio State University College of Social Work, ABC22/Fox45, Ameriprise, Assured Partners, Cedar Grove Fence, Farmers & Merchants Bank, Guardian, Heidelberg , Holmes Marketing, Key-Ads, Levin Family Foundation, McGohan Brabender, Montgomery County Commissioners, Nucor, Reliable Electric, RGW Development, Matt Scarr Associates, SouthBrook, UPS, Vectren and Wesbanco.