We are Hiring!! Come Join Our Team!
Agape for Youth, Inc. is seeking a Reunification Services Specialist to provide direct services to biological families and their children.
The Reunification Services program provides short-term services to the family to stabilize the reunification of the child back into the home and provide the family with the resources necessary to remain intact.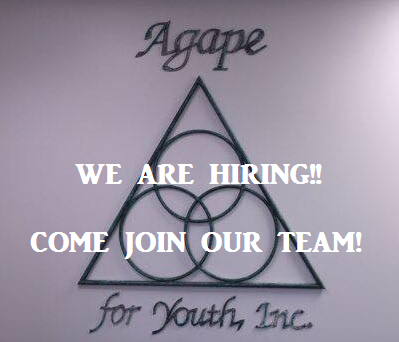 Qualifications :
Current licensure of one of the following: LSW, LISW, LPC, or LPCC
Ability to teach and model parenting skills.
Crisis intervention skills.
Knowledge of community resources.
Effective verbal and written skills
Computer proficiency in Microsoft Word.
Drivers licensed required
Duties :
Provide supportive services and crisis intervention to families referred to the Reunification Services Program.
Visit with the family 5 to 10 hours face-to-face per week for approximately 12 weeks.
Attend staff meetings, Semi-Annual Reviews (SAR), family team meetings and court hearings.
Keep accurate billing logs.
Job Type: Full-time
Required education: Bachelor's
For additional information or to submit a resume please contact Ann Morrissey at 937-439-4406 x1103